'BackYard' Agency & Humor in the Climate Crisis
A TerraCorps DINE Conversation
On April 1st, TerraCorps staff met for our regular Diversity, Inclusion, 'Nibbles' and Equity (DINE) meeting. We did not talk about April fools, but we did talk about some very funny people organizing around climate change. We also read about our metaphorical "backyards" and how shifting scales of agency affect how we respond to environmental issues. It was a warm-up conversation for the team as we approach Earth Day 2021. Below are links to what we read and some of the questions we discussed, and we invite you to our shared explorations of these topics. 
Who Gets to Decide What Happens?

We read the Bloomberg article 'How NIMBYs Made 'Back Yard' Mean 'Entire Neighborhood'.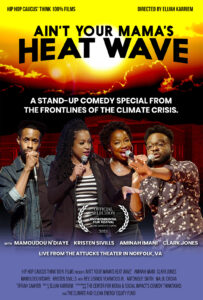 Then we watched Think 100%'s promotional video for "Ain't Your Mama's Heat Wave" First Look (Earth Day 2020). Think 100%  is the Hip Hop Caucus' climate justice communications and activism platform described as, "a content and engagement platform for Multicultural Millennials and Gen Z who care about justice and our planet and want information about the climate crisis and solutions but find that the climate and environmental movement does not speak to them." (learn more). 
Questions We Asked Ourselves:
When and where appropriate, switching from NIMBY to YIMBY could be helpful to communities that have not seen substantial investment in infrastructure development.  They need housing, jobs, etc.  However, what does that mean for land conservation, the wellbeing of wildlife, and opportunities for open-air recreation for those same residents? 

What is some of your thinking about reconciling seemingly opposite concepts of development for economic stability and wealth building, versus preserving open space for environmental protection and overall health and wellbeing?

Is there a role for the local Open Space Committees to address NIMBY issues in Massachusetts?  Is discussion of these issues a way to reach and engage a more diverse constituency?
What are examples of TerraCorps Service Member projects that address NIMBY issues?
How can organizations like TerraCorps "empower marginalized communities with more NIMBY power," as the article suggests?  Should we?  Where would that effort fit in with our

Ends Policy

? 
At 5:48 minutes in the

"Ain't Your Mama's Heat Wave" video

there is a comment about people not understanding statistics from a scientist but instead communicating through conversation and music, and more likely to listen when the information comes from a trusted source. As we strive to connect with underserved communities, what are methods we have not yet employed but could help us build relationships and trust?
The

Bloomberg article

mentions matching "our decision-making institutions with the geographies of real life"?  Could this idea be paired up with the suggestions mentioned during the video that we need the

younger generation connecting with the older generation, and the politicians connecting with the creatives…"  Is there really no other choice?
At 12:57 minutes in the video there is a comment about climate change, "When someone builds a bridge over your neighborhood, understand the ramifications for that… if summer lasts 7 months, understand the ramifications for that." What are succinct ways to talk about how development or lack thereof affect neighborhoods, and change people's experience with land and nature?
Our Approach to DINE Conversations:
As part of TerraCorps' commitment to developing as an equitable organization, we wanted to create a foundation for individual and common learning around Equity, Diversity and Inclusion (EDI) topics. We wanted to engage in an intentional, compassionate space for learning through non-judgemental, generative conversations. DINE is one internal work culture strategy that allows us to do that.
Together, we developed guidelines that allow us to engage in thoughtful, safe and supportive conversations:
Permission to speak in first draft

Stay engaged

Experience discomfort

Expect and accept non-closure

Confidentiality

Ask the hard questions

Express and expect disagreement with the idea 

Participate to the fullest of your ability — community growth depends on the inclusion of every individual voice.

The goal is not to agree — it is to gain a deeper understanding

Commit to respecting each other even when we disagree

Listening and allowing thoughts to be completely expressed  

It's okay to have fun
The above is a reflection of what works best for our team at this time. You may have other ideas about ways to engage EDI topics that respond to your groups' needs, approach and stage of learning. If so, we'd love to learn what has worked for you and how your team or organization has built practices of organizational equity into your workplace. 
Learn more about TerraCorps' approach to Land Equity and our commitment to practicing internal organizational equity as we continue to build a human-centered organization working to ensure land is and remains the foundation of health and well-being for ALL.