Fighting the Good Fight, One Feast at a Time
by Megan Saraceno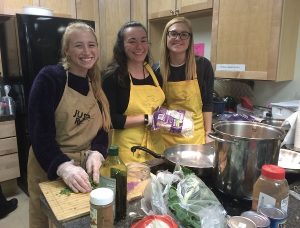 Hello, it's me, Megan! I wanted to share a very special project from my year of service at the non-profit Just Roots. Located in the humble, vibrant, town of Greenfield, Massachusetts, I have been aligning work and play through their mission, "increasing access to healthy, local food by connection people, land, resources and know-how".
As Just Roots' "Community Engagement Coordinator", I have had plenty of amazing stories worth sharing, from navigating blossoming partnerships, including the farm and a local community health center, to engaging with our community through food demos and recipe sharing. These diverse experiences have come with cherished memories, challenges, and breadth of professional skill development.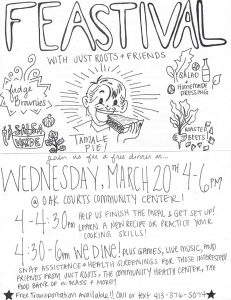 This winter, I have had the pleasure of organizing monthly community meals at two local housing developments through a grant-funded program, The Local Food Clinic. The Local Food Clinic provides community members with an easily accessible, welcoming environment to learn about food access and health resources available in Franklin County. Acknowledging the power of sharing a meal, we decided to rebrand our event to "Feastival". The events are intended to create a celebratory and community-oriented environment, with food security services and support seamlessly integrated through conversation over the meal, activities, and resources available on the dining tables and throughout the space. We feature a meal with local seasonal vegetables and provide recipes for participants to take home, replicate, alter, and enjoy. Our community members are invited to contribute to the meal prep, 30 minutes before the service time, if they're interested. Aimed to build the skills and interests around healthy food, while providing resources to accessing them.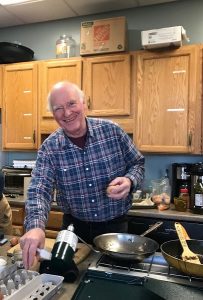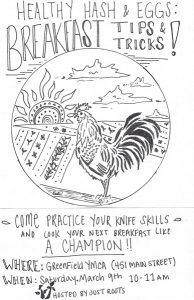 Through this program, I have been able to combine and showcase many of Just Roots values and talents. We bring JOY, we bring FUN, we show community members that veggies are delicious and can be used in so many fun and simple recipes! We build relationships and create systems with community members who face many barriers to food access, and stand as allies in the fight to make good nutritious food a human right!
Megan served as a Community Engagement Coordinator at Just Roots for TerraCorps 2018-2019