S.A.L.S.A/ Kite Festival Promotes Fun with Families and the Community
by Mitchy  Alberti
This year was my first time experiencing and participating in the 6th annual S.A.L.S.A/ Kite festival. Every June Ground work Lawrence alongside the Mayors health task force host the festival on the Merrimack river in Lawrence attracting residents of all ages. It's an event that Is free, family fun offers games, kite making and flying, trolley rides, boat rides, music, face painting and more. Healthy lunch was provided at no cost at all. It was a great turn out this year, where people who didn't know the event was happening walked into a great surprise at the park.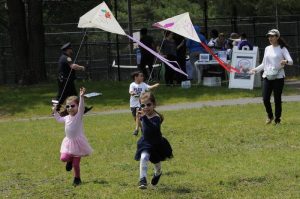 This year the location was moved because of the remaining construction from the Gas Leak in sept of 2018. It was changed to the Riverfront Park that is right next to the Merrimack River. The goal of this event is getting people active in fun ways. It wasn't just fun for the children we want to encourage parents/ guardians to be active as well, making it a day of family. S.A.L.S.A stands for Supporting Active Lifestyles for All. There was a DJ, bouncy house, a mini bike obstacle course.
There were about a dozen nonprofit, community groups, stationed along the walkway and the park with tables providing information, displaying healthy eating / lifestyle as well as useful skills like CPR training. Firefighters and law enforcement came out to enjoy the day with the community. Hanging by the river banks and officers giving out ice cream in their own ice cream truck.
I worked alongside coworkers and Green teamers from Ground Work Lawrence. We all helped the community build kites. We helped young and old to decorate their own kites, then help assemble the kite together carefully before they were able to take flight. The kite flying has been a big part of Ground Work Lawrence for years before it joined together with S.A.L.S.A festival. It is a very popular event.
I personally believe even with the location change; the Riverfront park was a huge success. There is an open grassy center of the park open to the public to fly their kites, dance, chase bubbles. Had children and their families participate in group activates like Simon says, and Tag to help get their blood pumping and get their heart rates up. I had a very fun time. Meet some new faces meet some old ones. It was great to see so many families' out and about during the event. Hope to be part of the action again next year. When I first learned about making kites I had kept one to keep for my own enjoyment. We had made over 250 kites and ran out just near the end of the event. There was a young boy who approached our table to make one but we had just ran out. I decided to give him the one I was saving.  As we started to pack up, I looked up to see him running around enjoying his kite. Right there I knew it was worth it, I had a feeling he would have a better time with it than I.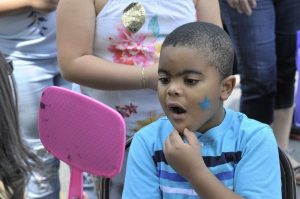 Mitchy served as a Community Engagement Coordinator at Groundwork Lawerence for the TerraCorps 2018-2019 service year