NCLT Opens New Mobility Friendly Trail at Underwood Conservation Area
by Robin Austin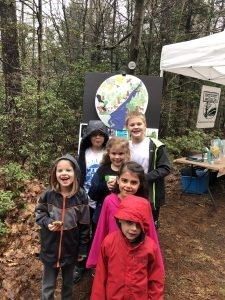 On Friday, May 3rd, community members, families, local veterans, and many more gathered to celebrate the ribbon cutting and naming ceremony for North County Land Trust's first "Mobility Friendly" trail. NCLT engaged the Hubbardston Center School to hold a trail naming contest with students. The students sent in great suggestions and presented NCLT with a beautiful collage to celebrate the trail.
Choosing a name from the many fantastic submissions was challenging.  The NCLT judges ultimately decided to combine two suggestions: "The Wild Walk", by Keller Nally, and "The Wheelie Good Trail", by Ellery Sylvia for a final name of "The Wild Walk: A Wheelie Good Trail". NCLT greatly
appreciates the input from everyone at the school as well as all the help from Principal Jill Peterson and Art Teacher Andrea Ure who made this possible.
We are so grateful to everyone who has partnered with us to make this project a reality! Thank you to Keith and Debbie Bockus, Tom and Mary Robinson, and Tom Bratko for their help during the trail work; Bob Hatch and Steph Frend who made it possible to install the benches with their tractor; and North Quabbin Trails Association for constructing the trail. Thank you as well to everyone who has donated to the crowdfunding campaign- We raised just under $1,000 in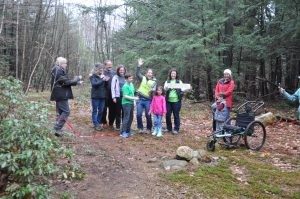 support of this project!
This trail is about 5 feet wide in most areas, with a natural surface— outside materials were not brought in to resurface the trail. However, the terrain IS level with most obstructions removed. NQTA was also able to use a pine tree that had fallen across the trail to build three beautiful benches, which serve as rest stops along the trail.
This project has been in the works for a long time. NCLT has been looking into how to expand access to their conservation areas. When TerraCorps/AmeriCorps member Robin Austin joined the organization in September 2018, she was tasked with looking into the ways NCLT could expand accessibility. NCLT was then connected with Bobby Curley of North Quabbin Trails Association, a veteran-led trails organization.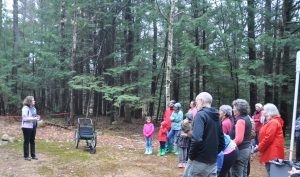 NQTA has partnered with the GRIT freedom Chair to get veterans to access to rugged trail wheelchairs. They have been working to build trails in the North Quabbin region that can be used by these specialized chairs. We recognized that many of the features that expand access for these chairs also expands access for many others, including seniors, folks with mobility impairments, assistive devices, or traumatic brain injuries, families with young children, and many other groups. NCLT partnered with NQTA to build a trail that would be appropriate for these user groups.
We hope that you will all check out the trail and let us know what you think. This trail is only the beginning for North County Land Trust- we are looking to continue this project into the future, by expanding on the accessibility of this location, as well as some of our other conservation areas. Whether that means ropes and braille for folks with visual impairments or expanding nature walk signage for those unfamiliar with navigating natural spaces- we value the input and we want our trails to be a useful resource for our community. If you have thoughts on this work or other questions about NCLT, please feel free to contact us at info@northcountylandtrust.org.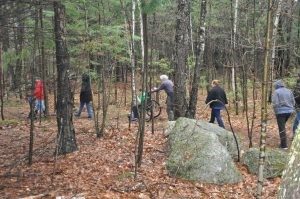 Robin is served as a Community Engagement/Land Steward Coordinator at North County Land Trust for TerraCorps 2018-2019.