Land for the People (of Holyoke)
by Lee Halasz
The City of Holyoke recently adopted the Community Preservation Act (CPA). This surcharge on property taxes provides a fantastic source of funds for municipalities to support the conservation of open space.
Kestrel Land Trust (my service site) was asked by the City of Holyoke to assist with an application to permanently conserve a 50-acre parcel of forested land, and Lucky Lee has been able to work on the project from the beginning. Should it be successful, it will be the first land conservation project in Holyoke using CPA, with hopefully many to follow.
The parcel (which we named Gloutak Woods after the owner) had recently been placed on the market, with the owner needing to realize its financial value. However, she had always wanted to conserve the parcel but was never quite sure how it could happen. Enter CPA. Now, with a possible route to provide funds to buy the parcel, the City of Holyoke approached Kestrel to help with the process, given Kestrel regularly works with other municipalities to conserve land under the CPA process.
In my service with Kestrel I had dabbled in the land conservation process through assisting several projects in various ways, but the Gloutak Woods project was the first time I had been tasked with a full project from the beginning. I coordinated the application through working with the landowner and her attorney and real estate agent, several local community members, and various people at Kestrel and the City of Holyoke.
After the CPA Committee reviewed the application, Kestrel was asked to meet with the Committee and to make a presentation on the project at a public meeting (attached photo). The committee is now back to deliberating and will soon vote on whether to fund this project.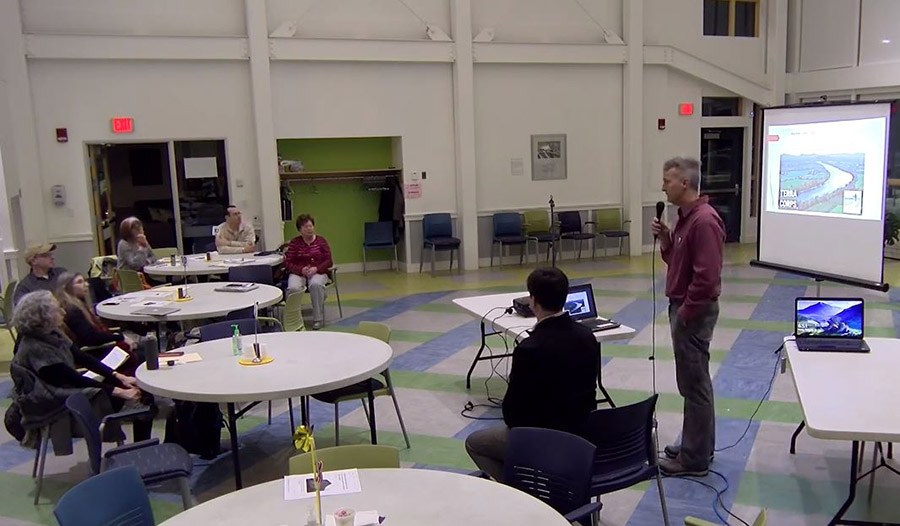 It has been fantastic to be fully immersed in a land conservation project, and to now more fully comprehend just how much coordination and work is involved. Having invested plenty of energy into the process, I really, really, really hope the application is successful! It would be amazing to know that I helped conserve one of the largest remaining parcels of privately-owned land in Holyoke, so that it can be important wildlife habitat, beautiful open space, and a public recreational resource forever more.
After I have completed my TerraCorps service, I would love to be able to continue to help conserve land and can see land trusts and land conservation in one version of my future!
Lee served as a Regional Conservation Coordinator at Kestrel Land Trust for TerraCorps 2018-2019