Discovering What Makes the Hilltowns, the Hilltowns
by Brigid Ryan
I am serving at Hilltown Land Trust, which serves 13 towns in Western Massachusetts, and within these 13 towns is my hometown of Chesterfield. I am thrilled I earned this position because I am doing what I love in the place that I love. At the same time, I'm able to learn more about the ecology, the history and the community around me.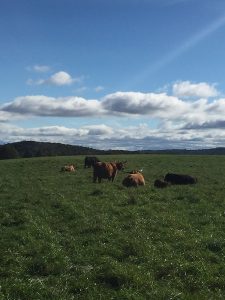 As a Land Stewardship Coordinator, the largest task I have is to monitor properties that have conservation restrictions (CR). A conservation restriction is a legally binding agreement between a landowner and land trust to permanently protect property. In the fall I visited almost 20 CR properties and I realized that every single property was different from one another. Each week I was able to learn more about the world I've grown up. I felt as if I had a behind the scenes, all access pass to the hilltowns. I visited a property with beautiful and large old legacy trees, which are trees that were spared by the axe of settlers or survived a windstorm event. I crawled in and out of some of the steepest ravines down to rivers that cut through the landscape. I walked through pasture land while Scottish Highland cattle grazed around me. I followed stone walls and barbed wire along property boundaries that reminded me these forests were once fields. I stumbled upon a brook with flooding waterfalls at every dip in the earth. I listened to a landowner tell stories about how they used to play in the foundation of their ancestor's house on the property. I found signs of moose, deer, bear, rabbit and other wildlife exploring the forest.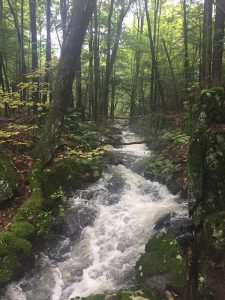 I was not always the most graceful while maneuvering through the woods to experience all of this. I have gotten my foot stuck in mud. I have been shocked by electric fencing. I have had my eye poked out by branches. I have gotten caught in prickers. But it was all worth it.
I chose this career path because I love to be outdoors and to connect with others in nature. The best part about monitoring is that sometimes you should be taking the road less traveled, and that is where I found the most joy. During each visit I was able to share these moments of awe and wonder with volunteers and landowners. My sense of connection with the community and nature has grown deeper through this position. I am proud to be apart of the efforts in conserving these properties that make the hilltowns, the hilltowns.
Brigid served as a Land Stewardship Coordinator at Hilltown Land Trust for TerraCorps 2018-2019