Bringing People Together to Protect the Spaces We Love
by Michael McGrath
As an undergraduate, I was proud of the Jesuit education that I received from my alma mater Xavier University as it instilled within me the resolve to be dedicated to the betterment of my community–both human and ecological. It was that commitment to service for the common good that led me to TerraCorps where I currently find myself serving with Mount Grace Land Trust as a Regional Collaboration Coordinator for the North Quabbin Regional Landscape Partnership (NQRLP). The NQRLP is a regional conservation partnership that serves as an informal network that convenes representatives from conservation non-profits, state agencies, academic institutions, and municipal staff and town boards who all share the same interest: protecting and stewarding open space within the Greater Quabbin Region.
When I originally chose to serve with Mount Grace Land Conservation Trust I was excited by the prospect of coordinating a powerful network of conservation professionals and dedicated volunteers who all shared the same goal of amplifying our collective impact to protect open space on a landscape scale. At the same time, I was admittedly intimidated by the prospect of facilitating a group of land conservation professionals who were experts in their field when I was only a recent college graduate who was also happened to be from out of state and knew little to nothing about the region in which I was serving.
Looking back to when my service year started I had little knowledge of the inner-working of land conservation within Massachusetts and was wrestling with what my role should be at Mount Grace and with the NQRLP considering the transient nature of my AmeriCorps position. Despite initially feeling unsure of my role within Mount Grace and the NQRLP, I was able to recognize that more than anything my role is to support our partners so that they can have access to relevant resources and timely information that helps them be more effective in their conservation, stewardship, and municipal planning activities.
After overcoming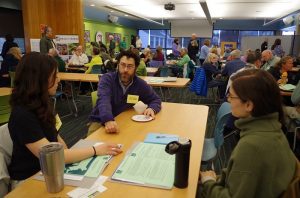 my initial uncertainties, I have since been able to coordinate and facilitate partnership meetings on a quarterly basis and support many of our partners on independent initiatives that they are working on. I was even able to take the lead on planning and executing a statewide conference for town boards that were concerned with protecting and stewarding open space. Along with my team of fellow TerraCorps, we were able to provide these town volunteers forum to network, share ideas, and foster peer-to-peer learning. More than anything the workshops demonstrated that a small group of thoughtful and concerned citizen scientists can make a difference within their communities. While as a TerraCorps member I likely won't be around to see the culmination of their community organizing efforts, knowing that we are all working towards a common goal makes gives me hope that we can each do our part to protect and steward the environment.
While I am not from this bioregion and still do not consider this landscape to be my home, I have learned a great deal from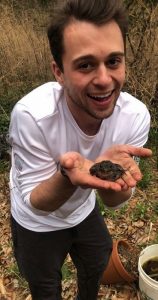 serving as the Regional Collaboration Coordinator for the NQRLP and by serving alongside my fellow TerraCorps peers and colleagues at Mount Grace. With my year of service winding down to the last couple of months, I can earnestly say that I am grateful for having had the opportunity to learn on the fly and occasionally wander in the woods. If there is one lesson to be gleaned from my time at Mount Grace, it is that the behind the scenes work that goes into bringing people together makes all the difference for protecting the spaces that we love for one generation to the next.
Michael McGrath served as a Regional Collaboration Coordinator at Mount Grace Land Trust for TerraCorps 2018-2019.