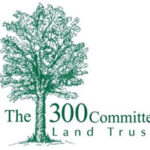 Website The 300 Committee
TerraCorps Land Stewardship Coordinator (LSC) with The 300 Committee Land Trust
About TerraCorps:
TerraCorps is an AmeriCorps affiliated environmental nonprofit growing a more equitable ecosystem of people and organizations to protect and steward land for broader good. Working at the intersection of land conservation, sustainable agriculture and food justice, we seek to bridge the gap between the urban, rural and suburban land movements historically segregated by socio-economic divides. Through our generative service, training and partnership model, we cultivate future conservation leaders and offer immediate capacity support to the local organizations they serve.
About The 300 Committee Land Trust:
The 300 Committee Land Trust (T3C) is a private, nonprofit organization whose mission is to permanently preserve and protect open space in Falmouth, MA through land acquisition, education and management. Working with the Town, citizen groups and other conservation organizations, T3C safeguards natural resources, provides public green spaces, connects people with nature, and strives to retain Falmouth's unique character and beauty. Since our beginnings in 1985, our land trust has helped protect more than 2,500 acres throughout Falmouth for conservation, recreation and clean drinking water.  Our lands contribute to a healthy environment and are preserved in perpetuity so everyone can enjoy them now and forever.

In recent years, T3C has embraced the goal of making conservation lands accessible to all by providing trails and signage that can accommodate people of all abilities where feasible. In addition to our robust volunteer program, T3C strives to make meaningful connections within the community and provide a space for collaboration with other groups such as The Town of Falmouth, The Boy and Girl Scouts of America, Barnstable County AmeriCorps Cape Cod, and CapeAbilities. 
COVID-19 Information:
The 300 Committee Land Trust mandates that all staff and TerraCorps Service Members be fully vaccinated before the start of the TerraCorps service year.. The reason we are mandating vaccination is because the Member will spend a significant amount of time serving in-person with volunteers, staff, or community members.  Therefore the expectation is that all staff and AmeriCorps members are fully vaccinated against Covid-19, unless a medical or religious exemption is requested..
The 300 Committee Land Trust has proposed the following potential project(s) for their Land Stewardship Coordinator:
Address concerns uncovered from previous property monitoring : T3C   has experienced tremendous growth in our stewardship capacity, and with increased tracking, reporting, and volunteer help, exposing needs within our current capacity. The expansion of property monitoring through our Landscape Conservation Software has helped us to identify issues on the land that need to be addressed. The TerraCorps member will help triage and address the concerns discovered through this reporting.

 Inclusion & Accessibility: As more people have been using the land as a respite during the pandemic, the need for improved mapping and signage has become evident. T3C will continue to install signage, publish maps, and strive to bring awareness of the resources T3C can provide for everyone in our community. The TerraCorps member will help us identify further opportunities for inclusion, increase accessibility and help us be responsible stewards of our holdings. 

Implementing management plans: A long-standing goal of our Stewardship Committee has been to implement land management and forestry management plans to improve the habitats our lands provide. Over the past three years, state funding has been leveraged for forestry management plans on 11 properties with projects detailing everything from invasive species removal to fostering native plant growth.  With an invigorated volunteer crew, we look forward to implementing these objectives with the help and creativity of a TerraCorps member.
Required AmeriCorps Qualifications:
 A US citizen, US national, or Lawful Permanent Resident Alien of the U.S.

At least 18 years old

A minimum of a high school diploma or GED

No more than three previous terms as an AmeriCorps member

Pass a criminal history background check, including an FBI check
Desired Qualifications:
Strong writing and verbal communication skills

Able to serve both independently and as a member of a team

Comfort navigating computer software programs (Comfort navigating computer software programs GIS, Excel, Word, Outlook, ArcGIS experience a plus)

Training and experience pertinent to the Land Stewardship Coordinator position and projects listed above

Experience training and educating community members and volunteers

Ability to read and interpret various maps, such as surveys, aerial photos, and USGS topos

Experience or interest in natural systems and identifying plant and wildlife species

Able to be active outside in a range of weather conditions, and navigate uneven terrain
AmeriCorps Member Eligibility Requirements:
This year's TerraCorps members will serve from August 30th, 2021-July 29, 2022. All Members are expected to serve full-time, commit to serve for the entire 11-month term, and complete at least 1,700 hours of service, including time spent in trainings and service with the full TerraCorps team. Weekly service averages 38 hours and commonly includes some night and/or weekend activities. Training hours will not exceed 20% of the member's total term of service. Members are required to serve and participate in a TerraCorps service day on MLK National Day of Service. 
AmeriCorps programs provide equal opportunities. TerraCorps will recruit and select persons in all positions to ensure a diverse and inclusive climate without regard to race, religion, sex, sexual orientation, age, veteran status, color, political affiliation, creed, national origin, marital status, or any other status as protected by federal, state, and local laws. We encourage applications from individuals with disabilities and will provide reasonable accommodations for interviews and service upon request.
Member Compensation and Benefits:
TerraCorps Members will receive a living allowance of up to $15,600 (pre-tax) over the 11-month term of service, which is $624 (pre-tax) per 25 biweekly pay periods.

 

TerraCorps assists Members in obtaining health insurance coverage. Reimbursement of costs may be available.

Childcare assistance may be provided in cases of financial need.

Upon successful completion of a term of service, AmeriCorps Members receive a taxable $6,345 education award that can be used for future education or to pay off existing school loans. See

nationalservice.gov/resources/edaward

for info and restrictions.

TerraCorps Members are eligible for forbearance of most federally-guaranteed student loans, as well as payment of interest accrued during service.

TerraCorps Members will receive mentorship, training, and career development opportunities while serving directly with community-based nonprofits.

TerraCorps Members experience the personal rewards of national service and community engagement.
Note: TerraCorps members are responsible for their own housing and must have access to reliable transportation.
How to Apply:
Member applications will be collected by TerraCorps and shared with Service Sites. Do not send applications directly to a Service Site.
A complete member application includes a resume, two references, and an application form. Member application and detailed instructions can be found here. 
We strongly encourage interested individuals to apply as soon as possible once applications are posted. Position offers and acceptances will be made on a rolling basis. The program aims to fill all positions by late June, but Service Sites will continue interviews as needed until all positions are filled.
For questions about TerraCorps, contact Lianna Lee, who manages TerraCorps' recruitment process. Email MA@terracorps.org or call 978-364-9770.