From Service to Staff: TerraCorps Lasts a Lifetime
by Marissa Patterson | Massachusetts Program Co-Director and TerraCorps Service alum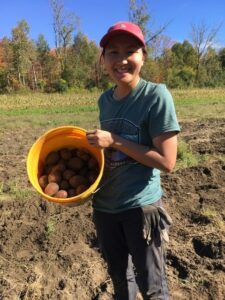 In both personal and professional situations, I aim to base all my decisions at pivotal moments in genuine excitement and energy and in connection- to people and to land. After my year as a Service Member, I wanted to join the TerraCorps staff to reinvest the same energy and excitement given to me to the next generation of Service Members so that they, too, can benefit from the experience and connections I made. This is my TerraStory.
Growing Roots through Service
When I was applying to be a TerraCorps Member, I received offers for two positions in the program, both in the role of Community Engagement Coordinator. One was with a land trust and one was with a sustainable farming project. They were two very different organizations with very different missions, goals, programming, communities, and professional development opportunities. I ultimately made my decision based on my excitement level and the connection I felt – to the organization, to the mission, to the person who interviewed me and my future supervisor. 
While I was, generally speaking, excited about both positions and the TerraCorps program as a whole, I spent a lot of time thinking about which position, projects, and organization excited me most at my core. Ultimately, which option would give me the most energy and feel most connected to my new community?
Connecting through Community
My service year began with a bit of whirlwind. At the end of the summer in 2018, I ended my seasonal job on a Friday, had one final day with my family in Oregon, boarded a red-eye flight on Saturday night, landed at Boston Logan on Sunday morning, then Monday was the first day of TerraCorps Member Orientation at the Harvard Forest. In my cross-country move, I didn't have a car, so I posted in the Member Facebook page to find someone to carpool with. I ended up riding to Orientation with two lovely people who became automatic friends. It so happened that all three of us had just moved to the Greater Boston area from out of state due to a partner's education.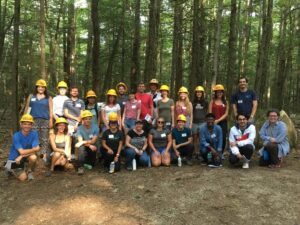 As we all settled into our new service positions, while our respective partners were busy with their academic careers, we began to hang out more outside of service. We went on hikes, shared meals, used our EBT cards and the Card to Culture program to go to museums, explored the city, had game nights, celebrated birthdays, and of course, continued to carpool to other TerraCorps events. Beyond those TerraCorps friends in the greater Boston area, having a state-wide cohort of TerraCorps members to connect with at retreats and other events throughout the year gave me a profound sense of community and a built in network in my new community.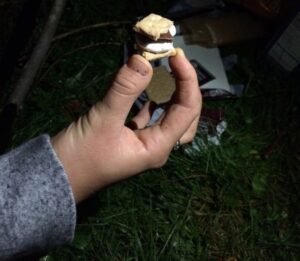 There's no other way to say it- some pretty rad people serve with TerraCorps. From niche hobbies to exchanging stories from the field, telling silly stories from world-wide adventures to trying to make the smallest s'more possible, nerding out on things from board games to birds, and completing service projects together at Mount Grace, Just Roots, Broad Meadow Brook, and Sippican Lands Trust, our cohort slowly got to know each other throughout the year.
Having that community through TerraCorps was huge in my transition to life in Massachusetts. That sense of connection gave me so much energy and drove my desire to continue to be part of the program.
TerraCorps, an Ecosystem for Change
Throughout the year, as our service projects unfolded, we also got to share in each other's successes and challenges, share tools and resources, attend and support each other's events, and exchange stories from service. At some point during the year, it dawned on me just how much collective power we held and how much potential there was to push land focused organizations and movements in Massachusetts to new heights.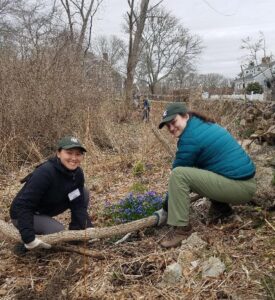 Individually, we were just one person trying to figure out ways to get people to eat kohlrabi or one person trying to get folks out on a hike or one person teaching garden lessons. But together? Together, we were thirty some land professionals exchanging ideas and best practices, learning from and with each other, and building capacity for more than twenty different land focused organizations across the state. And the program has only continued to grow.
Now, a little over one year after I transitioned from TerraCorps member to staff, it is our current cohort of members that give me energy. This year, our cohort are 50+ land leaders serving at more than 30 service sites across 2 states. In the face of a pandemic and a struggling economy, they chose TerraCorps service. They are planting vegetables, pollinator gardens, native shrubs, and urban trees, they are designing strategies for virtual engagement, they are finding safe ways to continue to engage youth and families in outdoor programming, they are hosting webinars and other virtual events, they are delivering food and addressing food sovereignty. 
They are choosing community. 
They are choosing connection. 
What is more energy-giving than that?
Marissa (she/her) is a key member of the AmeriCorps Program Circle, providing day to day support to TerraCorps members, supervisors, and service sites in Massachusetts. She holds a Bachelor's Degree in Biological Sciences from Mount Holyoke College and brings experience from urban forestry projects, climate justice organizing, volunteer management and outreach, and small scale regenerative farming. Learn more about Marissa and the TerraCorps leadership team and the work they are doing to grow a resilient organizational ecosystem to advance more equitable land stewardship practices.